There's something special about being a princess.
Princesses have that enviable combination of being regal and glamorous, looking like they've just stepped out of a fairytale. Glorious royal weddings really highlight the fairytale status, with the princess bride marching up the aisle in yards of silk and lace topped off with a diamond tiara. It makes your heart melt right then and there.
Your own wedding is one of the best times to celebrate your inner princess. I knew just how I wanted to look on that special day, and being a royal historian I had a lot of research from which to choose my ideal ensemble.
Here is what I did to capture royal glamour:
1.) Do your homework. My search took a few months because there were a lot of Royal brides to study. Start looking for ideas right away when you get engaged.
Eventually I decided to emulate Crown Princess Letizia of Spain.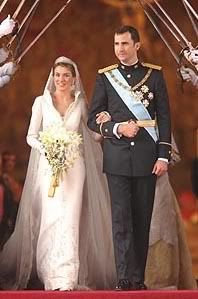 The Crown Princess' dress was fitted with long sleeves, and the collar of the gown was high, which I liked. Her tiara was a graceful curve, lending a subtle sparkle. The earrings were small, the veil was long, and the makeup subdued. Very smart indeed!
2.)  Look carefully. Even though I had a specific dress style in mind, I tried on several gowns of every variety just to see how they looked. Keep an open mind in case you cannot afford the exact dress you want. You never know – the second choice may turn out to be even better than the first!
3.) Assume nothing. I thought that because of the approaching autumn weather (I got married in October), the gown designs would feature sleeves. No such luck. I had found a beautiful gown at last, but it was strapless. What to do?
4.) Improvise. Throw on that Bolero jacket. Perfect! I now had the long sleeves I wanted with a smooth, curved collar. Add that to the cathedral-length veil scattered with pearls to match the lace and pearls on the dress, and Voila! Major wedding shopping is complete.
5.) Get a fabulous tiara with quality crystals. This is probably the only time in your life you will get to wear a tiara, so don't get a cheesy one. Make it a goody!
My Accessories: Below is a picture of my tiara, made of genuine Austrian crystals and leaded-glass rhinestones. It was attached with bobby pins instead of combs, which I felt was more comfortable. It measures 2″ high in the center, and is formally known as the "Fantasy Trellis" style. It was purchased through Princess Bride Tiaras (http://www.princessbridetiaras.com)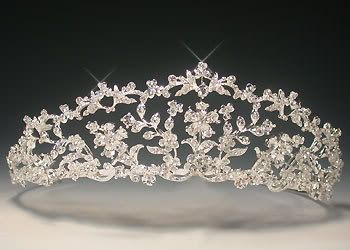 This is one of my earrings. They are not real diamonds, but they still look regal and sparkle like an icy fire. They reminded me of something the Queen might wear, so I was absolutely sold. They were discovered at JC Penney for under $20.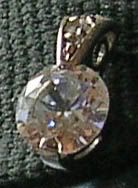 Below, a necklace I made myself several years ago. I did not want too much jewelry to clash with the intricacy of my gown and the tiara, so I went simple. It is a small diamond threaded with clear wire, with small metal ends that screw together. The thread is barely noticeable in any photos, but the little diamond shines brightly to compliment the earrings and tiara.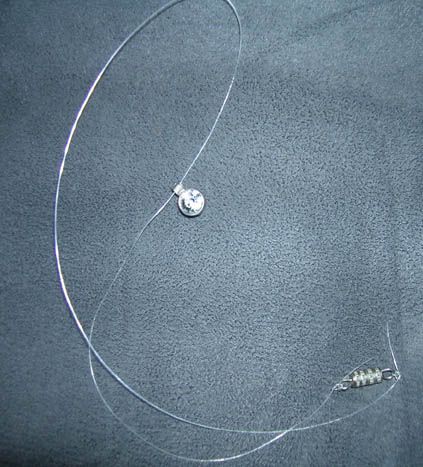 My Hair: All royal ladies wear their hair up on the day of their wedding. I've seen some brides wear their hair down under their veil, but it just looked uncomfortable to me. A sleek up 'do is the only way to go. I chose another of Letizia's looks.
My Makeup: I chose Clinique's Superbalanced Makeup (32 Breeze) for my foundation, followed by just a mere poof of blush on my cheeks. I smudged a small amount of gold eye shadow on my lids, and lined my eyes' water line with black eye-liner. I topped it all off with Maybelline's "Very Black" Great Lash mascara. A quick smudge of tinted lip gloss, and I was ready to go.
I hope these photos and ideas inspire you for your own wedding. Just follow my advice of simple and elegant, and you too can be an amazing royal bride!
- Mandy